On Brokenness and Beauty
On Brokenness and Beauty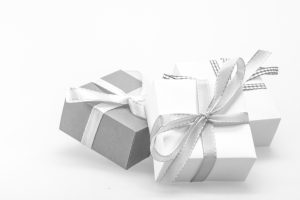 Aunt June's Vase
My Mom insisted on it–"Aunt June will receive a thank you note."
That thank you to Aunt June needed to be first on long task list of wedding preparations 42 years ago.   June wasn't my aunt.  Or, if she was, she was a great aunt once removed or something complicated like that.  Unmarried, reclusive, living on the other side of the country, Aunt June ceremoniously drove to a upscale department store to buy the gift that, so we were told, would be prized and enjoy high visibility in our new home.
The gift turned out to be a graceful pewter vase.  And the bride–my wife–promptly wrote the obligatory gushing thank you note.
Moving Day
Eighteen months later, the vase was packed in a cardboard moving box for relocation to our first parsonage in central Pennsylvania.  The two churches that were going to share me as their pastor were having enough difficulty figuring out how to meet my minimum salary requirements, and adding the cost of a moving van irritated church leaders.  At length, they reluctantly agreed to pay for the move, on the condition that we used the cheapest and most motley moving company in Pennsylvania.
The van loaders, one of whom was bleeding from his right eye following a bar fight the night before, rang our apartment doorbell early the morning of the move.  For the next several hours each piece of our furniture was  bumped on the front door frame on its way to a huge pile of our possessions forming the moving van.  Boxes were stacked in leaning cardboard towers and shoved into place at the back of the van.
Ruined
When, in our new home, I unrolled Aunt June's vase from its paper wrapping it was scratched and misshapen—probably from rolling around in a box crushed under the weight of other cargo.  It was "ruined."  I wondered what Aunt June would have thought as I deposited the vase, together with no-longer-operating appliances and torn clothing, in a box of damaged goods for which the moving company's insurance would have to reimburse us.
Weeks later a reimbursement check arrived.  And weeks after that the movers phoned.  They explained that because the company had paid for all those damaged items, they now wanted to stop by and pick them up.   On our front porch, we placed a brown cardboard box with the vase and a couple of other broken things we had not yet gotten around to discarding.  Reluctantly, we had to admit that we didn't own these things anymore.
A day passed and the box remained outside our front door.  Two days.  We pulled the box inside to keep it from being soaked by the weather.  A week passed.  Eventually, we put the box out at the curb for the trash.  But we kept Aunt June's vase.
The ruined vase no longer is a lovely wedding gift.  It has, however, proven itself convenient for displaying not-very-lovely flower displays.  Blooms, which had fallen off of bushes in the yard which otherwise might just wilt, can spend a day or two in Aunt June's vase.  Grocery store floral arrangements find a temporary place in Aunt June's vase.  Toddlers' bouquets of clover and dandelions have had their own place of honor in Aunt June's vase.  Over the decades, fine crystal vases and hand-painted porcelain vases have come into our possession.  These are our mainstays for Valentine's Day or Mother's Day flowers.  But that pewter vase, still warped, scratched, dirty, and technically someone else's property, has long been the flower holder that we pull out of the china cabinet most often.
The Beauty of Wear and Brokenness
There's more to the story of Aunt June's vase.   Every time I look at that vase or think of the path it has taken, I remember that sometimes damaged or broken things prove to be curiously beautiful and useful.  Artistic photographers turn their lenses towards broken-down objects.  A lone standing fence post on the edge of a defunct farm,  half rotten, and buried in weeds becomes an award-winning print.  No one would even think of making a water color painting of a perfectly stocked shelf of brand new laundry products at Target.  But a broken down rural mailbox will catch an artist's eye.  Blue jeans with holes in the knees inexplicably are high fashion.  The legendary Fender Stratocaster electric guitar now comes new from the factory with "road wear"–worn off paint to look as if it has been played for years.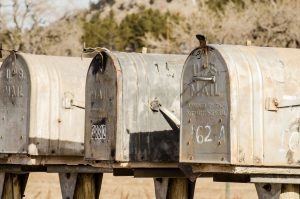 If spoiled vases, fence posts and blue jeans can have their own beauty, what about people?  Am I more useful and attractive with a little of my own road wear?
When John Bunyan penned that scene, in his Pilgrim's Progress, of the main character, Christian, reaching the end of his life, the last thing that Christian does is to give away his possessions.  But he keeps his scars.  Christian passes over into God's presence with evidence of the battles he has fought for heaven's cause.  In his resurrection, Jesus, having been given a new body, retains the nail holes in hands and feet.
What Does God Find Beautiful?
If the soulfulness of broken things is pleasing to us, I would think that God himself shares the same aesthetic.  Or maybe God, being God, carries his delight in damaged things to a divine level.  What we love about someone like John Newton, the converted slave ship captain, who later wrote the hymn, "Amazing Grace;" or Charles Colson, the scheming Watergate attorney who tearfully turned to Christ,  is the record of their brokenness, their rescue, their struggle, and their scars.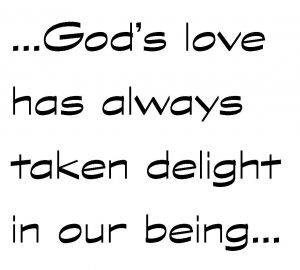 When church-goers gather on Sundays, the service begins with a prayer of confession.  People in neckties go through an exercise of listing their misdeeds.  Logic might dictate that attendees whose wickedness reaches a certain threshold would be obligated to leave the building.  But no one ever leaves.  The confessing exercise culminates with an announcement that, "No! you're still loved by God, and that God gleefully wants to instruct you and nourish you and send you out as his own people!"
Like Aunt June's vase, we are no longer the shiny graceful bearers of God's image, which was the official plan for our lives.  But being ruined and salvaged and dragged back inside and re-purposed a couple of times, we have acquired our own story of mishap and endurance.  And the story and the scars it has left please God.
Now, nobody knows better than I do that in the worship service, the minister intones the Assurance of Forgiveness.  Jesus has died, so we are told, in order to provide a legal-type acquittal.   I happen to believe that.  I've announced to congregations a couple of thousand times.  I think the point of that reasoning is to convince the discouraged worshiper.  As for God, my hunch is that God hasn't stopped loving us because of our mishaps, nor suddenly started again because we're now sorry.  My hunch is that that love has always taken delight in our being; and does so all the more as our story, like Aunt June's vase, becomes more and more interesting.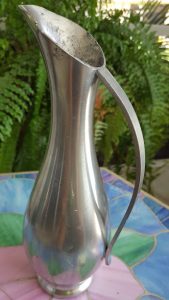 Please follow and like us: