What We Teach and Who We Are: A Salute to Public School Educators
What We Teach and Who We Are: A Salute to Public School Educators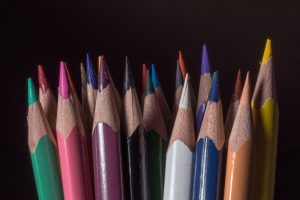 I'm pleased to speak for First Presbyterian Church today to welcome you, our teachers from the Berta Weathersbee Elementary School.  Your principal is here, she's a good friend of our congregation.  I want to salute you for your leadership and obvious love of teaching.  And…your teaching of love.
When I was last with you at the opening of the school year in August, I noticed that you were  more skiddish than in previous years.   Your focus was on what was in store for this year.  I understand they're  rolling out  a new statewide curriculum.  No one knows better than the one who stands in front of those kids what that means–mandates, meetings, and minimum standards.    It looks particularly tough this year.  We're in an election year.  It's easy to criticize teachers.   School management and student outcomes—factors that are relentlessly measured—are viewed as target rich areas for aspiring politicians.  It's tough to be a teacher.
It's tough to be a student nowadays.  Economic chaos of late has propelled more Americans into poverty than ever before in my lifetime.  More and more of your kids are coming to school from homes with the lights out, where flies buzz around plates of uneaten food, where adults may or may not be available, and at night cars roar up and down the streets and bottles can be heard smashing on asphalt by kids in beds who will recite multiplication facts the following morning.  It's tough to be a student.
What it Means When You Just Can't Stand It Anymore
I discovered something about our callings our vocations in life several years ago.  I learned this from an elementary school principal, Scott.  Scott was one great guy.  I'm proud to say that this educator was a member of the church I served back then.  I've never seen anyone who could do educational leadership as well as Scott.  I remember standing with Scott in the hallway of his school, just after the bell turned loose a stampede of elementary kids.  Scott got a "low five" from each kid who ran past.  Scott addressed each kid by name.  I was not surprised when I heard that Scott's school was always the one teachers wanted to transfer into.
Ironically, Scott was forever looking to transfer out.  Every couple of years Scott would get restless and changed jobs.  Once he changed districts.   Finally, he retired early and became an amateur carpenter.
Scott's odyssey unfolded over the course of years.   He was personally unsettled in the midst of an unsettled school district.  I know right now that I'm talking to educators who know what an unsettled school district looks like.  Here's where I'm going with this:  Scott's  beleaguered school district really needed his calm leadership.  Scott taught me a deep lesson about life: Just when you think you can't stand it anymore, you just may have reached the point when you are most needed.
Looking for the Finish Line
How many of us here–and I'm talking to myself as well–squint to see the finish line in our working life?  We think, "I just don't want to carry this one more year."  We calculate: "Maybe I could bail out on my spouse's insurance and we could make due on one salary until Social Security kicks in.  The house is almost paid for.  Maybe instead of adapting to a new curriculum for the umpteenth time, I could spend time in the garden and volunteering at church."  That's one path we contemplate.
I'd like to propose another path:  For times like these when the curriculum is changing, and the kids are crazy, and there's an ever-larger crop of fresh-faced new teachers on the faculty, maybe what is really needed are the old horses.  I'm thinking of you classroom veterans who have seen twenty-six first days of school.   I'm thinking of you who have changed grades four times and had thousands of parent conferences.  I'm talking to you who can silence the worst class like Jesus calming the storm.  You've seen administration come and administration go.  You've coaxed dozens of attention-impaired kids through the multiplication tables.  You've mentored five student educators, four of whom are still in front of classes.  This is not your first state fair.
It's because it's so rotten tough over there that we need your brand of poise and smarts this year more than ever.  Those kids need you.  LaGrange needs you.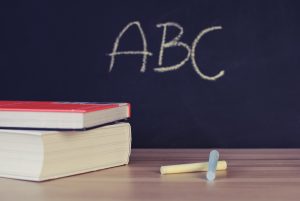 What Matters Most is Who You Are
I'd like to suggest a more profound reason why we need you.  You see, while it's true that we always need educators, what we really need is you.  That's what I mean by the title of this sermon, "What We Teach and Who We Are."  The most valuable resource you bring to the classroom is you.
I was over at Vernon Woods [Assisted Living Facility] on Thursday last week.  I asked a gathering of about 10 of the Presbyterian residents to tell me about their favorite teacher–all-time favorite teacher.   Every member of that little conversation lit up.  They all had one favorite.  They all remembered his or her name.  Virtually all of them were elementary teachers.  Our seniors over at Vernon Woods laughed when they acknowledged that not one shred of what their favorite teacher taught them was remembered.  But their affection for the teacher was still there.  And this is interesting: virtually all of the favorites were described as "hard" teachers.
I asked, "What makes a good teacher?"  Again, no hesitation about the answer.  "She could connect."  "She loved us."  "She just knew how to teach us so we could learn."
It feels to me like we're real close to a huge insight here.  It doesn't matter what they do with the curriculum or the number of school days.  What matters is who you are.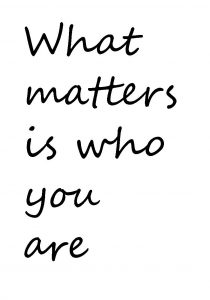 Someone is thinking, "Who does this preacher think he is to be authorized to be shooting off his mouth about teaching?"  Well, here's my answer to that.  What is a Christian church?  What is it?  A church at its most rudimentary essence is a bunch of students—disciples—gathered around the great teacher, Jesus.  Just like in the Bible.  In fact, the image of students following their teacher around was what a school—a rabbinical school—looked like.  So, God became a teacher.  You and I became apprentices in the school of Jesus.  That's the basic setup.  Christianity is school forever with no graduation. And what a teacher we have!  And it's critically important who the teacher is.
Look at famous student teacher pairings: Plato had Socrates; Alexander the Great had Aristotle; King Arthur had the Wizard, Merlin.  Says Jesus, a student is never greater than his or her master.  So, it's important that the master be marvelous.
My Worst Teacher
And, let me tell you when the "who you are" is a mess, a classroom can be excruciating.
Item: Mrs. B, second grade teacher.  Unfortunately, Mrs. B. was my second grade teacher.  It was all just so weird in the second grade.  Our teacher—childless herself–expected kids to exhibit a spontaneous interest in arithmetic and music notation.  "Aren't you curious?" she'd plead with a stack of giant addition flash cards in her hand.  Mrs. B. informed my mother that her aspirations for her son to go to college needed to be downsized.  A more reasonable goal for Douglas would be high school graduation—if we were lucky.  Mrs. B. had a little green card file box in her desk drawer.  If a student did an extraordinarily bad thing, Mrs. B. would rush to the box and write down the student's name on a card in the box.  The upshot of getting your name in the green box was never really spelled out.  The actual consequence remained an almost theological mystery, which portended that some punishment awaited us, no not at the end of the day nor even at the end of the school year.  No, there was a punishment reserved for named ones in the green box, which had ultimate, apocalyptic dimensions that even terrified the Presbyterian second graders.
The whole Mrs. B thing needed an intervention that actually came.  Relief came when the principal, Mrs. Black, switched Mrs. B. from the second grade to the fifth grade.  This arrangement afforded students to become a bit more time to grow up before the ordeal of the school's most challenging teacher with her green box.
Regrettably, this grade level adjustment happened when I was in the fourth grade. Through a combination of my own lackluster academic performance and a devil-may-care preparation of class rosters, I landed again in you-know-who's class.  This positioned Mrs. B. like a hockey goalie between me and my new highest academic aspiration—high school.  My sentence to elementary agony turned out to be only half served. I remember the final weeks of the fifth grade, going to school in tears several mornings as I dragged myself to the end of two whole years of classroom purgatory.
My Favorite Teacher
You know what, I just remembered my favorite teacher.  She was my daughter's first grade teacher.  When our oldest finished kindergarten she still was very uptight and cried when starting First grade.  On the first day of school Mrs. Tysseling adjusted the lesson plan for that all-important initial class, took our 6 year old by the hand to the library where there was a rocking chair.  She pulled my child up on her lap and rocked her.
Hold that image in your mind because that's really the sermon.
Who you are really matters.  There's some glorious mix of being in touch with yourself, of loving life, of reverencing all that is good,  true and beautiful, of your delight in your subject, and of loving the kids that makes it all work.
What little time I've spent at Berta has given me ample confidence that you already know what I'm talking about.  Good teachers connect.  Suddenly, connected with your own heart and your kids the story, the lab experiment, the geography of the Piedmont, and even the human-made universe of mathematics and music touches hearts and participates in some kind of love.
And only you possess that to give.  They can test until the cows come home, change the curriculum all they want, only you can connect and deliver.  And our society in these confusing days is desperate for you to succeed in what you can do.  And when you do it, a distant day will come when a handful of elderly former students will remember your name with a smile.  And the little ones who sit in front of you today will, every once in a while, hope that the bell doesn't ring.
September 23, 2012, First Presbyterian Church, LaGrange, Georgia
Please follow and like us: