The Man Who Gave Us Christmas
The Man Who Gave Us Christmas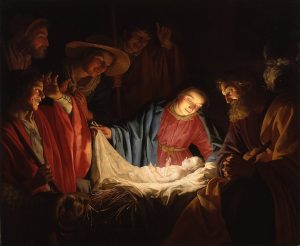 Every year on Christmas Eve, Sandra Baker would make clam ch­owder–for the whole town.  Sandra's husband was a dairy farmer, which was a good thing, because Sandra simmered her milky clam chowder in trash can-sized pots.  In the middle of the afternoon on December 24, she'd get on the phone to the neighbors, tell them the chowder was ready and to bring a plastic container.  Every Christmas Eve I'd spend a half hour in a mini traffic jam in Sandra's drive­way, wait­ing to get my clam ch­owder.  The chowder was good, which was fortunate considering it was my mandatory Christmas Eve mid-day meal.
Part of the tradition was listening to Sandra complaining all thr­ough Advent about how hard it was to continue making so much clam chowder every year.  Nevertheless, she persevered.  The whole town also persevered in keep­ing up the clam chowder tradi­tion.
Christmas has a way of collecting traditions.  Cer­tain music is traditional.  Certain foods.  Even certain stories.   Some of traditions are worth unpacking year after year.  Where would we be without Franz Gruber's, "Silent Night­," or O' Henry's, "The Gift of the Magi?" Even Dr. Seuss's, Grinch Who Stole Christmas" deserves a look once a year.
There is one person who has enriched Chri­stmas beyond even the greatest carols, recipes, decorations, or gifts.  That person is Luke, the writer of the Third Gospel.  Without this anonymous early Christian writer and his telling of the story of Jesus' birth, the world would not have Christmas, as we know it.
The Development of the Gospel
When the earliest Chris­tians went forth into the wo­rld, they carried a very sim­ple message.  Evil people crucified Jesus and he rose again from the grave.  That was the Apostles' message.
About 30 or 40 years after Jesus' public ministry, when the Apostles began dying off, Christians like Mark began writ­ing down Jesus' story in little novels called gospels. Mark preserved the oral tradition of a simple message.  This is why Mark's gospel contains no mention of Jesus' bir­th.  It took another decade or more for Luke and Matthew to blend Mark's gospel with other stories about Jesus–including his birth.
Matthew gives us the star, the Wise Men, and the escape into Egypt. Luke gives us Mary, the shepherds, the trip to Beth­lehem, the stable and manger, and the heavenly host praising God. Additionally, Luke records John the Baptist's birth and a tantalizing little story of Jesus from Jesus' childhood.
The Gospel of the Poor
Beyond the information that Luke has recorded is a beautiful warmth that begins in his nativity stories and pervades the entire gospel.  For example, Luke possesses a passion for invisible people and social outcasts.  These characters play vital roles in Luke's Nativity stories. We can credit Luke as the inspiration for food collections and Christmas presents given to underprivileged children at Christmas. In Luke's story, Jesus is poor. He isn't born in a shelter fit for humans.  Mary, his mother is a peasant girl.  Those who celebrate his coming are sim­ple shepherds.
I can think of no other book in the New Testament that pays so much attention to those at the bottom of so­ciety.  Luke rendering of Gospel message is parti­cularly sym­pathetic to women, the sick, handicapped, slaves, lepers, shepherds, prostitutes, tax-ga­therers, Samaritans, Gen­tiles, refugees, children, the elder­ly, and widows.
Jesus himself showed extraordinary concern for the poor.  Luke understood keenly how hard-living people fit into God's plan and he crystallized it in his writing.
Peace on Earth
Additionally, Luke directs his reader's attention to peace in his Christmas narrative.  Luke's nativity scenes are tranquil.  What do Luke's Chri­stmas angels sing?  "Glory to God in the highest and on ear­th…peace."  Bible scholars have discovered that Luke is the most pacifistic of the Go­spel writers.  Matthew gives us the slaughter of Bethle­hem's little boys at the hands of Herod's henchmen.  Luke, on the other hand, gives his readers glimpses of reconciliation between enemies.  Jesus sits down to eat with ostra­cized people more often in Luke.  Careful readers of Luke's Gospel have noticed that he often edits out violent elements of sto­ries, which appear in Matthew or Mark.  In Mark, for exam­ple, divine judgment destroys the unfruitful fig tree.  The same tree in Luke receives a second chance.  The Christmas card embla­zoned with the word "peace," owes its existence to the writer of the Third Gospel.
Glory to God in the Highest!
In addition to the poor and peace in our Christmas tr­adi­tion, Luke has given us pr­aise.  Throughout Luke's Infancy Narra­tives, exuberant people burst into song for what God has done.  Mary sings her Magnificat.  Zechariah, John the Ba­ptist's father, lifts up his own song of praise.  Angels sing a canticle of praise to the audience of the shepherds.  After that, the shepherds themsel­ves, returning from the manger, lift their voices to sing of God's praises.  On every page of Luke's gospel, somebody is giving glory to God.
Praising God and Singing
I don't think I'm stretching too much to reach the conclusion that we can credit Luke with the Christmas tradition of rich music.  In many homes, the Chri­stmas music plays for the entire month of December.  For many people, Christmas music may account for ten percent or even more of their personal play list.
I thumbed through a hymnbook.  I counted 20 Christmas (not advent) carols.  I read the lyrics of each one.  I made a little chart.  Every time a Christmas carol refers to Matthew's story, I counted it.  Every time a Christmas carol referred to something in Luke­'s Christmas story, I counted it.  There were 44 Lukan al­lusions and 13 from Matthew.  Christian tradi­tion has found more to sing about from Luke than any other Christmas source.  Had it not been for Luke's lyrical vision, I'm guessing that Christmas would not sound ne­arly as sweet.
Luke's Generosity
This exercise of cataloging Luke's contribution to our celebration of Christmas is an eye-opening reminder that much of what we enjoy in our celebration of Birth of Jesus might never have been if one man had not shared it with us.  At some point, Luke read Mark, and decided that there was more glorious story to be told, which hadn't been included.  Then Luke went to the trouble to tell it so elegantly.  The generosity of one Christian, about whom we know little, continues to en­rich us.
Each Christian, like Luke, knows something about God or God's goodness that is precious and possibly unique. Each person who has followed Jesus possesses a one-of-a-kind relationship with him in much the same way that each relationship between spouses is unique.  Each of us sees Christ in a distinctive way.  Moreover, each of us has an opportunity re-present his or her own story of Christ.  God calls each person to give in the way Luke gave.
Luke as Model
The Bible contains four official portraits of Je­sus.  Matthew, Mark, Luke, and John.  Why is there not one official Gospel that would save the church from much confusion?  I believe that the answer is that the Gospel is supposed to be told and re­told.  Every Christian pre­sents Jesus Christ in some way to the world.  Luke, for his part, wrote his story.  Mary bore him physi­cally into the world.  Each Christian's job is to keep br­inging Christ and his love into our world in our own special way.
It's difficult to ponder the man who gave us Christmas and then continue to ask wh­ether this season will be more fun and spiritual than past Christmases.  Maybe what Luke has given is a pattern of allowing God's good things to come through us.  To us or through us?  What tr­adi­tion will I start?  What of Christ's presence, will my life manifest?  Maybe the next Gospel won't be written down on paper, but written in a way that no one could have predicted.  And they'­ll call it the Gospel Accord­ing to You.
Please follow and like us: